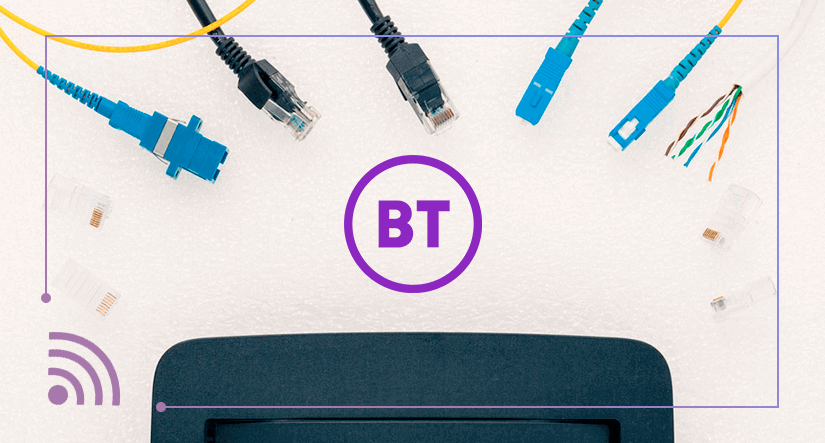 BT fibre broadband is one of the most popular internet services in the UK. There must be a good reason for that, right? Read on to find out if BT fibre really is the bargain deal you're looking for. Is BT fibre the best value for money for YOUR home internet?
---
BT fibre deals
Here are the most important features you need to know about, which apply to all BT fibre broadband deals:
Unlimited usage: there are no download limits whatsoever on BT broadband.
Contract length: all BT broadband contracts last 24 months and your monthly fee will go up automatically at the end of the term. Leaving your contract early will usually mean having to pay early exit charges.
BT Virus Protect: BT broadband gives you access to antivirus and parental control software, which is designed to protect your device from hackers, clean up your hard drive and keep you safe online.
Stay Fast guarantee: BT broadband deals come with a minimum speed guarantee, which means they will compensate you to the tune of £20 if your connection speed consistently dips below the level specified in your contract.
BT Smart Hub: this powerful wireless router comes as standard with all BT fibre deals, although you will be charged £9.99 for postage and packaging
No prices rises in 2019: the price of the BT fibre deal that you sign up for right now will remain the same until at least January 2020. However, since we're already in the final third of the year, this might not mean a great deal to potential customers since there will be price hike so soon.
Line rental: since you still need a telephone line to receive a broadband internet connection, line rental is included in the price of all BT broadband deals.
Read more about why download speed matters
BT Superfast Fibre
Currently on offer at £29.99 per month on a 24 month contract, BT Superfast fibre broadband gives you an average download speed of about 50 Mbps (megabits per second). This gives you plenty of capacity for browsing, streaming, online gaming and making video calls. In other words, BT Superfast download speeds should be sufficient for a typical family household where multiple devices are connected at the same time.
The September 2019 sale not only includes a £6.00 per month discount on BT Superfast fibre - that's £29.99 per month, down from £35.99 - but new BT broadband customers will also receive an £80 gift card. After your new broadband internet connection is fully set up and ready to go, you will be able to use the gift card at a wide range of shopping outlets. A word of warning though: that £29.99 monthly price jumps up to £43.99 at the end of the 24 month contract. That's more than a 40% increase!
BT Superfast Fibre 2
You might know it as BT Superfast Fibre Plus (now imaginatively renamed Superfast Fibre 2), this broadband deal comes in at £39.99 per month. For £10.00 per month more than plain old BT Superfast Fibre you are paying for slightly faster download speeds. The average download speed with Superfast Fibre 2 is 67 Mbps, which is not appreciably higher than the average speed of 50 Mbps that you can expect with the cheaper Superfast Fibre.
The other difference between the two BT Superfast deals is the number of devices on which you can use Virus Protect. BT broadband customers can install Virus Protect on up to 15 devices with the Superfast Fibre 2 deal, but only on two devices on the slower Superfast Fibre plan. The price increase at the end of the Superfast Fibre 2 contract is also a somewhat softer blow than you would experience on Superfast Fibre (see above). In this case, when your Superfast Fibre 2 contract expires, the monthly fee increases from £39.99 to £47.99.
Finally, Superfast Fibre 2 goes one better than the Superfast Fibre deal with its freebies. This one comes with a £100 gift card, instead of £80. Think of it as a £100 discount on the £959 you'll be paying for BT broadband over that two-year contract.
BT Ultrafast Fibre Plus
At £54.99 every month for two years, the BT broadband Ultrafast Fibre Plus plan is firmly at the expensive end of the scale of fibre broadband internet plans. At that price you get an average download speed of 145 Mbps, and a minimum guaranteed speed of 100 Mbps. With those speeds you can certainly say goodbye to buffering, frozen images on Skype calls and interrupted movie streaming.
BT Ultrafast comes with the full range of BT Plus extras, which means you get special treatment if you have any broadband connection problems and you can enjoy double data on all the mobile phones associated with your BT broadband account.
At the beginning of your BT Ultrafast contract an engineer will come to your home to carry out the installation for you and you'll receive a £120 gift card as a welcome bonus too. However, BT Ultrafast is still only available in a very limited number of locations. BT says its building the network as quickly as it can but the current goal of 12 million homes having access to Ultrafast by 2020 still leaves most of the country on standard fibre broadband connections. Anyone determined to sign up for Ultrafast fibre will probably have a long wait ahead.
Complete Wi-Fi: a boost for your broadband speed
All of the BT fibre deals have the option to add Complete Wi-Fi, a system designed to boost the wi-fi signal from your wireless router. You receive a wi-fi disc to place somewhere in your home, usually in an area where the wi-fi signal is very weak, and it connects automatically to your BT Smart Hub router. The connection between the disc and the Smart Hub then ensures that the signal is equally strong throughout your home. In particularly large homes where one disc does not improve the wi-fi signal, BT will provide another two discs free of charge.
BT broadband customers who want to give their wi-fi signal a helping hand with Complete Wi-Fi will have to factor in the extra monthly fee. Complete Wi-Fi costs an extra £10.00 per month on BT Superfast Fibre and on BT Superfast Fibre 2 plans. For BT Ultrafast customers, Complete Wi-Fi is an extra £5.00 per month.
Can I get BT fibre in my area?
Fibre broadband coverage has rapidly expanded in the UK in recent years to the point where the vast majority of the population can now get superfast fibre optic internet in their homes. The chances your house is already part of the fibre network but to check specifically that BT fibre broadband has arrived in your neighbourhood, use the Check Availability button here. Simply type in your postcode, select your house number and you'll see exactly which BT fibre options are available to you
Can't get BT fibre?So your heart was set on BT fibre but there's no fibre coverage in your postcode? Don't panic, you can almost certainly get an ADSL connection while you wait for the fibre network to expand. The download speeds will be slower because the data travels through copper telephone wires rather than through fibre optic cables but smaller households with light internet usage won't notice the difference. ADSL broadband is cheaper too!
Pros and cons of BT fibre broadband
BT fibre deals certainly have a few drawbacks hidden away in the small print. All BT fibre broadband deals come with a 24 month contract. That's right, you have to commit to two full years before you can switch. On top of that, your monthly price is likely to go up automatically in January of every year. In contrast, some other internet service providers guarantee no price rises during the length of your contract.
It's also disappointing that BT charges for delivery of its Smart Hub wireless router. While it's true that BT broadband does not require customers to pay other upfront costs, such as an activation fee, many of its competitors will waive the router delivery charge. Even better, at least in terms of the environmental impact of electronic waste, some providers will give you the chance to turn down the offer of a free router if you've already got one that you're happy with. BT could certainly try harder to be environmentally friendly.
Having said that, it's worth considering the advantages of BT fibre broadband. The powerful Smart Hub router ensures a strong wi-fi signal throughout your home while BT's Virus Protect software gives you peace of mind when it comes to internet security. Finally, with a BT broadband deal you can expect genuinely superfast download speeds, even with the cheapest fibre deals.