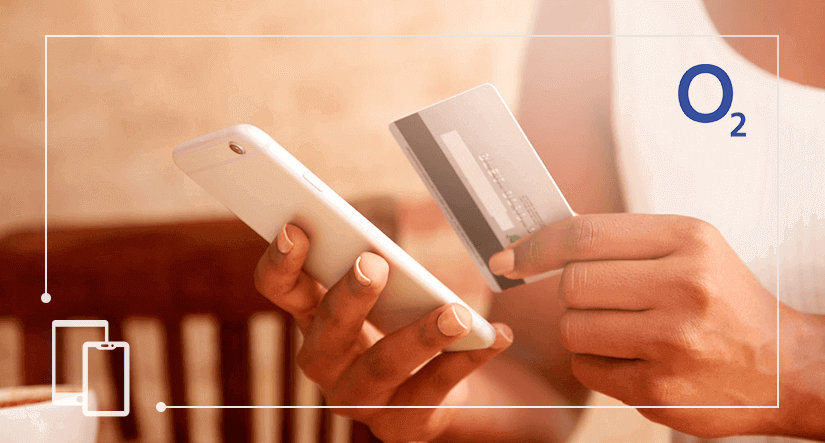 O2 mobile customers with Pay As You Go sims will periodically have to top up their calls, texts and data allowances. These top ups can be done in anticipation or performed after said allowances have expired. Whatever the circumstances, you have a few methods by which to recharge your balance and carry on as normal. We bring you tutorials for web, app and over the phone top ups.
---
Only O2 Pay As You Go customers will have to go through the following tutorials. If you would rather avoid the hassle, it's worth taking a look at O2 Pay Monthly phone plans. However, be aware that Pay Monthly would tie you down to a lengthy contract with a monthly charge according to a chosen plan. For those content with their PAYG sims, follow on to our top up tutorials.
Check out O2 Mobile Pay Monthly deals!
O2 web top up
Topping up has never been easier. Where before the only way to top up was to pop into an O2 shop or a newsagent to purchase a voucher, now you can use your web browser to top up online without so much as lifting a finger. Here's how:
Head on over to the top up page on the O2 website.
On the page you'll have a few options to choose from, click on Web top-up.
Enter your mobile number and email address in the relevant fields.
Choose a top up amount from the drop down (£10, £15, £20, £25, or £30).
Enter your house name or number and your postcode in the billing address section. Click Find address and choose your home address from the list provided.
Enter your payment details and click Pay now.
If you've registered for a My O2 account, you can save your payment details for ease of use and top up on your account dashboard, or by clicking on My tariff & Bolt Ons.
Top up on the My O2 app
Using the My O2 app is even simpler than topping up on a web browser. If you're downloading the app for the first time, you'll have to sign in to your O2 account and set a four digit pin. If you haven't yet registered for your My O2 account, you can do so via the app. Below are the steps for topping up.
Enter your four digit pin or, if applicable, let your device work its facial recognition magic.
On the home dashboard, you'll be able to see the Current balance box right at the top. Click on the Top up your phone button in the box.
Select a top up amount from the drop down (£10, £15, £20, £25, or £30).
Find your address by entering your house name or number and your postcode.
Enter your payment details. You can check Save payment card details for future use to streamline the process next time.
Click Pay now.
Automatic O2 top up online
You can set up automatic top ups on a weekly or monthly schedule, or whenever your balance reaches a certain amount - the minimum being £2. This can only be done by accessing your My O2 account on a web browser. Below are the steps:
Sign in to your account on the O2 website. If you haven't got an account, you can register on the site.
Click on Auto top-up.
Select either regular top up or Low balance top up and configure to your preferences.
Choose an amount from the dropdown (£10, £15, £20, £25, or £30).
Add your billing address.
Add your payment information.
Note: O2 Big Bundles will automatically renew on the date of its monthly expiration if you top up, either manually or automatically, the specified bundle amount.
Top up voucher & E Top Up cards
For those who, perhaps, don't have access to computers, or would rather bypass expediency for the sensations of an O2 shop or a newsagent, top up vouchers and E Top Up cards are viable, if not slightly arcane - by today's standards - methods by which to top up.
Vouchers
Top up vouchers can be purchased from O2 shops, as mentioned above, or from any shop that displays the green top-up logo.
Simply request an O2 top up and pay using cash or card. You can request any amount between £10 and £50.
Dial 4444 free from your phone or 08456 062 277 from a landline.
Using your keypad, enter the number the number on your voucher receipt.
Follow the prompts until completion.
E Top Up cards
You can request an E Top Up card in any O2 store and top it up there or anywhere that displays the green top up logo. The card lets your store credit and deploy it in the following way:
Dial 284 from your mobile (it's free).
Using your keypad, enter the 19 digit code on the back of the E card.
Again, using your keypad, tap in the 5 digit scratch code, also found on the back of the card.
O2 top up number
Lastly, O2 customers can top up over the phone by dialling the O2 Top-Up line on 4444 and registering their card payment details, which will be stored for future use. Below are the steps you need to follow to top up over the phone once your card payment details have been registered:
Diall 4444 free from your phone.
Upon request, provide the number of the sim you wish to top up.
Provide the last four digits for the registered debit or credit card.
State the amount you would like to top up (max £100 in a calendar month).
O2 Pay As You Go top up plans & bundles
When opting for a Pay As You Go sim, you can choose from one of three plans - although you can switch between plans at any time through your My O2 account. The three PAYG plans are:
Classic Pay As You Go
Big Bundles
International
Classic Pay As You Go
Classic PAYG offers maximum flexibility. You can top up when you want and you only pay for the calls/texts/data you use. A minimum £10 top up is required to replenish your available balance. O2's standard rates are charged with your usage. International usage is charged using different rates that depend on the country in which you plan to travel.
Big Bundles
O2's Big Bundles are essentially monthly Pay As You Go plans. You top up the amount required to access a monthly allowance of calls, texts and data. The top up amount required depends entirely on the bundle you choose.
Your allowance lasts a month, after which the bundle can be renewed. If you you've gone through your data, calls and texts allowance before the bundle can be renewed, you will be charged Big Bundle standard rates for any usage.
UK & International Bundles
These O2 bundles with international components work in much the same way as the aforementioned Big Bundles. Customers pay a fixed amount for a monthly calls, texts and data allowance. The crucial difference with the UK & International bundles is that you can use your inclusive minutes to call over 40 countries.
For a detailed list of O2 Pay As You Go tariffs, rates and charges, check out our O2 Pay As You Go article.
Frequently asked questions
How long does an O2 top up last?

This really depends on whether you go for Classic Pay As You Go or for a PAYG Big Bundle. With Classic PAYG, credit can, in theory, remain on your account indefinitely providing that you keep your sim alive by topping up every 999 days or making a call every six months.

On a Big Bundle plan, your top up balance and the allowance it affords last a month. Once a month has elapsed your bundle can be renewed. Should you use up your allowance before the month has passed, you will be subject to standard bundle rates until your allowance can be renewed.

Do O2 top up vouchers expire?

Yes. If you're purchasing top up vouchers from an O2 store or a newsagent, be aware that they have a 12 month shelf life from the date of purchase. After 12 months, these vouchers will expire. If you're stockpiling top up vouchers, we suggest considering a Pay Monthly deal instead.

How to check O2 top up balance

You can check your top up balance on the O2 website or the My O2 app by logging in to your O2 account. On the home screen, you'll see your balance under Current balance. In your account, you'll also find the type of tariff that you're on and O2's standard rates.

If you've run out of mobile data or can't access the O2 site and app, you can check your balance in the following ways: Dialing 4444 (it's free from your mobile); pressing and holding the 2 key on your phone's keypad; or by typing *#10# into the keypad and pressing the call button.

Can I top up abroad?

You can use the same methods outlined in this article to top up when abroad. You will need a stable phone signal or sufficient mobile/roaming data. If neither is available to you, you will need access to wifi or a hotspot.