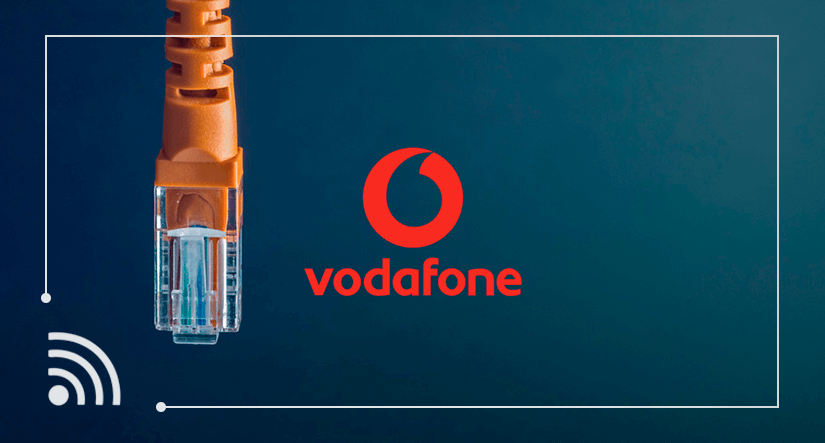 Vodafone broadband deals
Vodafone broadband is slowly but surely building a reputation as one of the best value for money home internet service providers in the UK. We all know its long track record as a mobile network, but can Vodafone fibre compete with the fastest and cheapest broadband offers on the market? Keep reading to find out all you need to know about the full range of Vodafone broadband deals.
---
Vodafone fibre broadband prices
Vodafone broadband deals could hardly be simpler. There are two fibre broadband plans from Vodafone, which are usually differentiated by both price and connection speed. In other words, paying more normally means you get faster download speeds. But wait! Spot the difference between these two offers:
Vodafone Superfast 1:
Speed: 35 Mbps
Price per month: £23.00
Upfront fees: £0.00
Free gift: Amazon Echo Dot
Vodafone Superfast 2:
Speed: 63 Mbps
Price per month: £23.00
Upfront fees: £0.00
Free gift: Amazon Echo Dot
That's right, both Vodafone broadband deals are exactly the same price! Both offers also include the same free gift; the Amazon Echo Dot. This neat little voice-controlled smart speaker pairs up with your other devices via bluetooth and responds to your commands when you speak to it.
Whether you want to listen to your favourite romantic music, get a weather forecast or call your mum, you just need to start your sentence by saying "Alexa!" and the Echo Dot takes care of the rest.
Of course, this special offer is available for a limited time only. You've got until 10th September 2019 to snap up Vodafone Superfast 2 for the price of Superdast 1, with the Amazon Echo Dot thrown in. After that time we expect Vodafone Superfast 1 to stay at the same price but Vodafone Superfast 2 is likely to cost around £30.00 per month for new sign-ups. In terms of other costs, at the moment there are no upfront fees for Vodafone broadband but at other times there may be a £9.99 charge for router delivery.
Vodafone broadband is unlimitedWhether you sign up to Superfast 1 or Superfast 2, there are no data caps or download limits on your usage. That means no restrictions at all on your streaming, browsing, Skype calls, online gaming or whatever else you might get up to on the internet!
Both the Superfast 1 and Superfast 2 broadband deals include line rental (yes, you still need a phone line to get Vodafone broadband). If your phone line isn't active, or if you don't have a phone line at all, Vodafone will charge you somewhere in the region of £60 for a new connection. However, Vodafone has many options for calling if you do use a phone. If you operate a business, you can also use VoIP calling with Vodafone broadband. VoIP providers such as Vodafone enable you to have advanced home office communication solutions.
One final thing you need to know when you sign up to Vodafone broadband is that you're committing to an 18 month contract and if you cancel before the end date you'll be charged a fee, which is determined by the time left on the contract.
What speed is Vodafone broadband?
The speed of your Vodafone broadband depends to some extent on where you live and how far away you are from the telephone cabinet on the street. This is because Vodafone broadband uses fibre optic technology only as far as the phone cabinet, and from there the connection arrives at your router via the old-fashioned copper telephone wires, just like most home broadband connections. Here are the speeds you can expect from Vodafone fibre:
| Broadband deal | Average download speed* | Minimum guaranteed download speed | Average upload speed |
| --- | --- | --- | --- |
| Vodafone Superfast 1 | 35 Mbps | 25 Mbps | 10 Mbps |
| Vodafone Superfast 2 | 63 Mbps | 55 Mbps | 20 Mbps |
*Mbps: megabits per second
What do these speeds really mean? First of all, let's compare Vodafone broadband speed to the UK national average for residential broadband, which is now around 54 Mbps. That average speed is a reflection of typical family internet usage, where several devices are connected to the internet at the same time and they are used for streaming, browsing, online gaming and video calls, amongst other things.
We would speculate that the 35 Mbps download speed of Vodafone Superfast 1 might struggle to keep up with the demands of a multi-device home with three or more occupants. Vodafone broadband speed fares better when it comes to upload speed, which is higher than many of its ISP competitors, but for most people it's download speed that really matters. With that in mind, the current offer of Superfast 2 for the price of Superfast 1 is certainly a great value deal.
Can't get fibre? Don't go with Vodafone!Vodafone has decided to shut down its ADSL network altogether, leaving customers in the lurch who don't live in an area that has fibre broadband connectivity. All Vodafone ADSL customers will automatically be switched to a fibre broadband plan by 31st October. Those without fibre in their neighbourhood will have to look for a provider that offers ADSL. Compare ADSL broadband deals now!
Something else that's important to be aware of is that 'average download speed' refers to the download speed that is typically experienced by at least half of the customers on that network during busy times. The download speed of your specific internet connection could be slower, or indeed, higher than this average. However, if it is consistently slower than the guaranteed minimum speed, you have the right to cancel with no early exit fees to pay.
Don't forget that the average speeds and minimum guaranteed speeds you see here only apply as far as your broadband router. What happens to the connection speed between your router and your devices is beyond the responsibility of the internet service provider (ISP).
Speed can be affected by several factors, such as the number of devices connected at the same time, the distance between the router and the device, and the presence of physical barriers such as extra-thick walls in your house. We advise you to keep these things in mind when you're choosing a broadband deal and not to be influenced too much by the ISP's advertising.
Vodafone Gigafast
In addition to Superfast, Vodafone now offers something even faster, known as Gigafast. Superfast and Gigafast are both fibre broadband but the crucial difference is that with Gigafast the fibre cables go all the way to your home, whereas Superfast uses the conventional fibre-to-the-cabinet set-up. Gigafast delivered via fibre-to-the-premises (FTTP) technology is considerably faster than Vodafone Superfast, as you can see below:
| | | |
| --- | --- | --- |
| Vodafone Gigafast deal | Average download and upload speed | Price per month |
| Gigafast Broadband 200 | 200 Mbps | £28.00 |
| Gigafast Broadband 500 | 500 Mbps | £38.00 |
| Gigafast Broadband 900 | 900 Mbps | £48.00 |
Vodafone Gigafast includes:
Line rental
18 month contract
Full installation
Three different Gigafast plans are available, all with line rental and installation included in the price. You'll notice the download and upload speeds are symmetrical; in other words, if your download speed is 200 Mbps, then your upload speed is also 200 Mbps. Anyone who spends a lot of time uploading images and videos to the internet, or playing online games, will appreciate the importance of those lightning-fast upload speeds.
Of course, faster download speeds mean more devices can stream videos seamlessly at the same time, plus less time waiting around for downloads to complete. With Gigafast your whole internet experience will be smoother and speedier.
On the downside, only a very limited number of addresses are on the Gigafast network at the moment. Check your postcode here to find out whether or not your home is already in one of Vodafone's Gigafast areas. If it's not included, why not register your interest so you'll be the first to know when Gigafast becomes available?
Vodafone broadband deals for existing customers
Do you already have a Vodafone pay monthly contract for your mobile phone? If so, with Vodafone Together you'll get an enticing £2.00 per month off the price of Vodafone broadband; that's a saving of £72.00 over the length of the 18 month broadband contract. Just remember the discount only applies while you have both Vodafone mobile and broadband; you will lose your broadband discount if you switch to a different mobile network during the contract term.
During your Vodafone broadband contract term you can upgrade your plan at any time. Maybe you signed up to a Superfast 1 deal recently but it turns out you need faster download speeds. In that case, you can switch to the Superfast 2 deal straightaway.
When your 18 month contract is coming towards its end date, you will have various upgrade deals to choose from or you can continue with the same plan. You'll usually find, however, that the monthly price goes up automatically so if you don't want to pay more, this is the time to switch to another provider.
Vodafone broadband router
Vodafone broadband deals come with a free router, known as the Vodafone Hub. Vodafone takes great pride in the latest incarnation of its router, which it says is twice as fast as previous versions.
It couldn't be easier to set up; all you need to do is use the cables that come with the router to connect it to a phone socket and an electrical socket. Press the On switch and you'll see the red power light come on. A few seconds later you should also see a green light, which indicates that the hub is now connected to the internet.
To get the best out of your Vodafone hub, place it on a table or a shelf (not on the floor) not too far away from the devices that you're going to connect to the wifi. If there is too much distance between the router and your devices, the signal will be weak and you might notice sluggish connection speeds, so put the router somewhere central if you possibly can.
Vodafone broadband app
Download the Vodafone broadband app for your smartphone or tablet and stay in control of your wifi even when you're not at home. The app is also the place where you can make a claim to Vodafone if you believe your download speed has fallen below the guaranteed minimum. Vodafone has given its broadband app a sleek design and a super-intuitive interface to make it the ultimate in user-friendliness. It comes with these handy features:
Wifi scheduler:

Set a timetable of operating hours for your internet connection! This could be the perfect solution for families that struggle to get everyone away from their screens to spend quality time together around the dinner table. For every day of the week you can choose the time slots for when the internet connection is active and when it isn't. Switching off the wifi might sound drastic but it could work wonders for your quality of life!

Quick connection with QR:

Share the QR code directly from the app to give your visitors fast and easy access to your wifi. No more hunting around to get the wifi code from the back of the router!

View your network:

See clearly which devices are currently connected to your network. This includes smart TVs and tablets as well as computers and mobile phones. You can even see how long each device has been connected in a single session.

Private guest network:

Create a second network, separate from your main home broadband. When you've got guests staying with you, they can use the guest network so you don't have to worry about data security.
Vodafone broadband and home phone
Vodafone broadband is not simply broadband. In fact, the broadband bundles are officially known as 'Vodafone Broadband and Home Phone'. Of course, your line rental is already included in the price, as is standard practice nowadays, and that means you can make landline calls on a pay as you go basis. If you're still attached to your landline for making most of your phone calls you'll be better off with a call package rather than paying PAYG prices.
Whatever broadband deal you choose from Vodafone, you'll automatically get voicemail and caller display on your landline for free. You can then opt to add one of the following phone call packages to your monthly subscription:
Call package
Price per month
What does it include?
Evening and weekend calls
£4.00
Calls to UK landlines.
Evenings: Monday to Thursday 7pm to 7am
Weekends: Friday 7pm to Monday 7am
Anytime landline and mobile calls
£8.00
Calls to UK landlines and mobiles at any time.