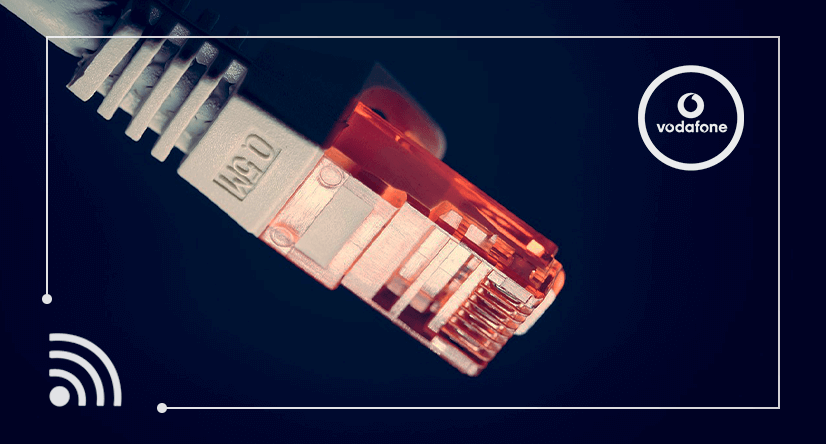 At first glance, Vodafone broadband appears to offer better value for money than many of its market rivals in the UK. With fibre broadband at competitive prices, the company proudly boasts of its award-winning home broadband. But are all the accolades deserved? Our Vodafone broadband review takes an indepth look to see how it measures up against the other leading internet service providers.
---
How much does Vodafone broadband cost?
First and foremost, let's consider one of the most important factors when you're faced with a seemingly endless choice of broadband offers: price. Vodafone home broadband plans frequently come out as some of the cheapest fibre broadband deals around, with a simple pricing structure according to the two different download speeds available.
Basic fibre
Let's take a look at how the Vodafone fibre broadband prices compare to some of the others on the market.
| | | | | |
| --- | --- | --- | --- | --- |
| Broadband package | Average download speed* | Price per month | Length of contract | Upfront fees |
| Vodafone Superfast 1 | 35 Mbps | £23.00 | 18 months | £9.99 |
| BT Superfast Fibre Essential | 36 Mbps | £29.99 | 24 months | £29.99 |
| EE Fibre | 36 Mbps | £28.00 | 18 months | None |
| Talktalk Unlimited Fibre Broadband | 38 Mbps | £23.50 | 18 months | None |
| Sky Essential Broadband | 11 Mbps | £22.50 | 18 months | £20.00 |
*Mbps = megabits per second
As you can see from the table, Vodafone Superfast 1 is one of the lowest priced when we compare broadband plans from a selection across the market. Adding a charge for a wireless router is rather disappointing when many broadband companies supply routers for free. Having said that, it's clear that Vodafone is by no means the worst culprit when it comes to upfront fees; its £9.99 fee for a router is well below the upfront costs of Sky and BT broadband.
Faster fibre
Turning to the next pricing level, what do you get if you pay a bit more for your high speed internet service?
| | | | | |
| --- | --- | --- | --- | --- |
| Broadband package | Average download speed* | Price per month | Length of contract | Upfront fees |
| Vodafone Superfast 2 | 63 Mbps | £29.00 | 18 months | £9.99 |
| EE Fibre Plus | 67 Mbps | £32.99 | 18 months | None |
| Talktalk Unlimited Fibre Speed Boost | 67 Mbps | £26.00 | 18 months | None |
| BT Superfast Fibre 2 | 67 Mbps | £39.99 | 24 months | £47.99 |
| Sky Superfast | 59 Mbps | £29.50 | 18 months | £20.00 |
With regard to faster broadband connections, Vodafone is beaten on price by Talktalk to the tune of £3.00 per month. Nevertheless, the price of Vodafone Superfast 2 still sits below the average monthly cost of a typical superfast fibre broadband connection, even without factoring in the higher setup costs charged by some of its competitors.
Phone line installation:An extra cost you might incur is for the installation of a new phone line. If your home does not have a telephone line, the broadband provider should be able to organise for an Openreach engineer to come to your home to put in your new line. This usually costs around £60.00.
Vodafone home broadband and phone packages
Like most internet providers these days, Vodafone home broadband comes with line rental included in the monthly price. If you still use your landline for calls, you can add a package for evening and weekend calls to your broadband deal for £4.00 per month. Anytime calls to mobiles and landlines will cost you £8.00 a month on top of your broadband price.
In terms of internet usage, there is unlimited data on every Vodafone broadband plan so there's no need for you to ration your Netflix time or Spotify streaming. Similar to line rental inclusions, unlimited downloads are now standard for home broadband from almost any provider so this is not something that makes Vodafone stand out from the crowd.
Many of the UK's leading broadband providers, including BT, Talktalk, Plusnet and Sky, indulge in the rather sneaky practice of hiking up the price of broadband once your contract finishes. Unfortunately, Vodafone is no different and you'll find your bill goes up by at least £3.00 a month after the end of your initial deal. In our view, this is something of a black mark against Vodafone, especially since we had to hunt for this information in the small print, whereas other ISPs make their price increases clearer.
See all Vodafone broadband deals here
Is Vodafone broadband fast?
First of all, let's clear up one or two things about broadband speeds. With any broadband provider, the speed of your internet connection often depends on where you live; in other words, how far away your house is from the telephone cabinet on the street. You can read all about the ins and outs of broadband speed elsewhere but, essentially, even when you've got superfast fibre broadband, the data travels through fibre cables only as far as the street telephone cabinet.
Unless you're lucky enough to have FTTP (Fibre To The Premises. i.e. fibre cables all the way to your home), internet connectivity is most often delivered via copper cables over the so-called 'last mile', from the telephone cabinet on the street to your home. The further away you are from the cabinet, the slower your broadband speed is likely to be.
Fast broadband has officially arrived in the UK!Ofcom's latest research shows that, as of 2018, two thirds of UK home broadband connections were delivered via superfast fibre, with an average download speed of 50 Mbps. This is an all-time high for British internet service providers! Test your broadband speed here to see how your broadband measures up.
Nevertheless, choosing between the various fibre broadband options can result in a world of difference in download speed (and upload speed, for that matter). Fibre is undoubtedly faster than ADSL, where the internet connection travels entirely via copper phone line cables. For some households with light internet usage, ADSL connections are still perfectly adequate but, in general, ADSL broadband has now been almost entirely overtaken by fibre.
Vodafone download speed
Vodafone has recently stopped offering ADSL to new customers and now only has two fibre broadband packages; one with an average download speed of 35 Mbps and another, slightly more expensive option with a 63 Mbps average download speed. It must be said that with those speeds, Vodafone certainly can't claim to offer the fastest broadband on the market.
That accolade goes to providers such as Hyperoptic and Virgin Media, both of which provide broadband internet access through means other than the traditional telephone network. With full FTTP from Hyperoptic, you can receive speeds of up to 1 Gb, considerably faster than Vodafone's Superfast 2. Virgin Media's cable broadband is capable of 350 Mbps. However, not only are these some of the most expensive broadband services, they are also only available to certain geographical areas.
The broadband speed that's fast enough for you will depend on your usage. Households with multiple devices connected simultaneously to wifi - for example streaming a film on Netflix, making a call on Skype and watching catch-up TV on BBC iPlayer, all happening at the same time - might find Vodafone's Superfast 1's 35 Mbps plan to be insufficient. In that case, for just a few extra pounds per month you can enjoy around 63 Mbps on the Vodafone Superfast 2 plan.
Guaranteed minimum speed
The download speeds advertised by internet service providers may not reflect the real speed that you experience in your home. However, there are some safeguards in place to make sure your internet connection doesn't grind to a halt completely.
Vodafone broadband offers a guaranteed download speed of at least 25 Mbps on the Superfast 1 plan, and at least 55 Mbps on the Superfast 2 plan. If your internet speed is consistently below the minimum Vodafone will give you money off your broadband service until they resolve the problem.
A word of warning though: the guarantee applies to the speed that arrives at your router. The internet provider does not take responsibility for what happens to the connection speed between your router and your devices. In other words, if your home has particularly thick walls or is very large you'll probably find that the connection speed on your devices will vary when you're using wifi. Connecting with an ethernet cable instead of wifi will help keep your speed up to scratch.
How good is the Vodafone broadband router?
The quality of your wireless router can also have a significant impact on your how well your broadband service works. Unfortunately, Vodafone's standard router has achieved a certain degree of notoriety for underperformance.
While the wifi signal itself may be strong enough, it seems the router doesn't cope well with heavy usage and some customers have resorted to buying alternative routers to ensure their connectivity remains at the level they expect. Don't say we didn't warn you!
Vodafone broadband for gaming
With average upload speeds of 10 Mbps and 20 Mbps for the Superfast 1 and Superfast 2 packages, Vodafone broadband is certainly a safe bet for gaming. Upload speed is often an important factor for online gamers so if there's a Fortnite fanatic in your household you'll want to take this into consideration.
Vodafone's upload speeds compare favourably to its competitors. Fibre broadband from both Sky and BT have upload speeds at around the 8-9 Mbps mark, while Virgin Media's average upload speed lags far behind at only 3 Mbps.
However, it's not all about download and upload speeds when it comes to the best broadband for gaming. Latency and packet loss are also important for an optimum game experience. Some customers have reported that Vodafone's latency is better than with Plusnet or Talktalk, but the overall consensus seems to be that Vodafone has not caught up with gamers' favourites BT and Sky.
Overall, if your gaming habits are likely to place a high level of demand on your broadband, and you're sharing your internet connection with family members or housemates, Vodafone might not be your top choice. Having said that, smaller households will certainly find Vodafone broadband speeds to be more than sufficient for gaming, streaming videos and music, and most other typical internet uses.
Vodafone broadband customer feedback
Vodafone broadband's competitive pricing and fast download speeds make it an attractive option but what do real Vodafone customers have to say about the service they receive?
Trustpilot reviews
With an average rating of only 1/5 on independent customer review site Trustpilot, most people would be instantly put off Vodafone broadband. However, this score needs to be put into context. Firstly, it refers to all aspects of the Vodafone brand, not just it's broadband service. Secondly, Vodafone's main competitors fare just as badly; Virgin Media, Sky, BT and Plusnet all have a lowly 1/5 average score on Trustpilot.
Ranting complaints littered with angry capital letters feature heavily in Trustpilot reviews of any of the big ISPs. These scores should be taken with a pinch of salt since people who have made all that effort to write a review are always more likely to have something less than complimentary to say.
Customers' negative comments about Vodafone include disagreements over bill payments, problems with moving house and unhelpful call centre staff. However, there are some customers who have taken the trouble to write positive reviews, praising the efficiency of staff in Vodafone high street stores and commending the reliability of Vodafone broadband.
Ofcom complaints
Vodafone has the dubious honour of being one of the top three most complained about internet service providers in the UK. However, we should stress that this means complaints to Ofcom about Vodafone, which is different from Vodafone's own customers complaining to Vodafone. An explanation for this could be an unsatisfactory complaints-handling department at Vodafone rather than Vodafone's customer service being worse in general.
Nevertheless, the fact that Vodafone features in the top three most complained about providers in three different categories (fixed broadband, landline and mobile) suggests that something fundamental is amiss in the company.
Discounts for Vodafone mobile customersIf you've got a Vodafone pay monthly mobile phone deal, you're in luck! Your brand loyalty will be rewarded with £2.00 a month off your internet bill when you take out a Vodafone broadband contract.
Vodafone broadband free gifts
At Vodafone broadband, they like to throw in a couple of extras to entice new customers. For example, as well as a discount on broadband for existing Vodafone pay monthly mobile customers, anyone signing up to a new broadband deal in August 2019 will get a free Amazon Echo Plus, the latest voice-controlled smart speaker with the Alexa assistant.
The incentives on offer change constantly so don't worry if you've missed out on the Amazon Echo Plus because there could be something equally appealing in the near future. Past free gifts have included FitBit activity trackers and GoPro video cameras. Other broadband providers in Vodafone's price bracket tend not to be so generous so for some people this could give Vodafone the edge over the competition.
TechXpert verdict
In the process of carrying out this Vodafone broadband review we've been surprised by the reports of poor customer service. Given that Vodafone has enjoyed such a dominant role as a mobile phone operator for such a long time, you could be forgiven for assuming that it had achieved such success due to high service standards that would transfer to its broadband provision.
It seems that equivalent success as an internet service provider might take a while but with their competitive pricing and download speed guarantees Vodafone could be on the right track to win over new customers and retain existing ones. On the other hand, perhaps the best we can say about Vodafone is that it offers more or less the same as the other big ISPs but with a lower than average monthly price.
On balance, Vodafone broadband will give you reliable connectivity at an inexpensive price. Particularly heavy usage households might want to look to other internet service providers that can offer greater broadband capacity. Whatever you choose, put a reminder in your diary to switch providers at the end of your contract term to avoid those price increases.
Category
Broadband Reviews