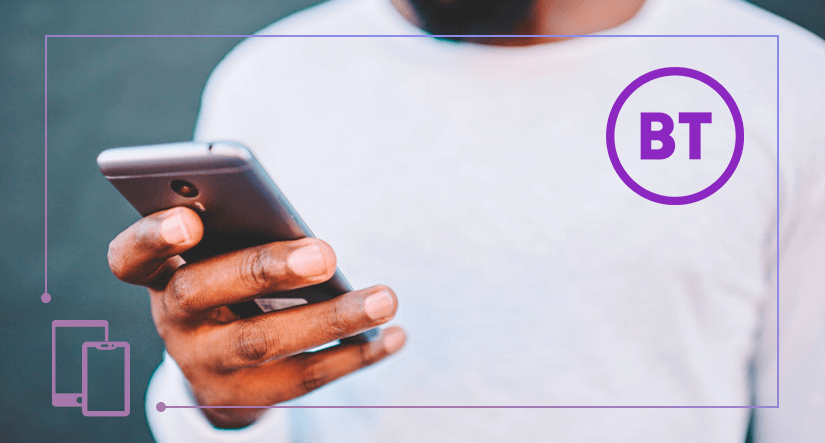 BT is perhaps better known for its extensive broadband services, and in the world of mobile is largely overshadowed by its relatively recent (2016) acquisition, EE - the figurehead provider of the mobile industry. But while BT dominates broadband, the telecoms giant has slowly been making hedgeway as a mobile provider in its own right, with an array of great mobile monthly deals. To help you make an informed decision - or rather an informed couple of clicks above - here's everything you need to know about BT mobile.
---
BT Mobile Deals: 24 Month contracts & tariff caps
All pay monthly BT Mobile deals are available on 24 month minimum contract terms only, meaning that when you sign up, you're in for the long haul. This, however, doesn't necessarily mean that you're locked into a single tariff for the entirety of the contract term. BT affords its customers some flexibility with their monthly calls, texts and data allowances.
If you find that your monthly allowance doesn't suffice for your actual usage - whether you need more calls, texts, or data - you can upgrade your plan at any time. Doing so won't trigger an entirely new contract. Rather, your current contract will be amended and your new allowance will be available in your plan's subsequent billing cycle.
Tariff caps
If you're paying in excess for going over your monthly allowances, and you don't want to upgrade your plan, don't fret. BT automatically caps your out-of-plan spending at £40, meaning that you'll never go above £40 of your usual monthly charge.
Better still, if you don't want to pay any excess charges, BT gives you the option of setting your own limits. You can limit your out-of-plan spending to any sum between £0 and £200. In practice, once you have reached your cap, you will no longer be able to use data, texts and calls, save for emergency calls.
BT Mobile Coverage: Is it the same as EE?
BT can be classed as an MVNO (mobile virtual network operator), which means that it uses another provider's network infrastructure to provide its mobile services. In BT's case, it uses EE's network infrastructure - one of only four extensive networks in the UK. However, given that BT purchased EE relatively recently (2016), it is technically the proprietor of the network.
Whatever the status of the network, all this means is that BT customers will enjoy the same network benefits as EE customers. The extent and operative performance of the network can be seen in the points below:
Voice coverage extends over 85% of the UK landmass.
Data coverage extends over 92% of the UK landmass.
4G coverage extends over 84% of the UK landmass.
Voice coverage is available to 96% of indoor premises.
Data coverage is available to 99% of indoor premises.
4G coverage is available to 88% of indoor premises.
What do the above stats mean? With BT (via the EE network) you're getting the best geographic data and, in particular, 4G coverage. You're also getting the best indoors data coverage. This means that you're more likely to receive a 4G - or below - signal with BT and EE anywhere in the UK than with any other provider.
What about 5G?
BT's 5G rollout will also be entirely dependent on the EE network. As of now, 5G is available in a few select cities, and even then only in the busiest areas. The network on BT, however, is even more exclusive. It's only available to BT Broadband Plus customers with a BT Mobile plan. This is bound to change in the coming year as EE and BT commit to an extensive roll out in 2020. The current 5G cities are listed below:
London
Birmingham
Manchester
Edinburgh
Cardiff
Belfast
BT Mobile Offers & Discounts
Signing up to a pay monthly contract with BT comes with quite a few perks, ranging from exclusive access to BT services to discounts and rewards. The former includes free access to more than 5 million BT wifi hotspots, and free BT Sports streaming on the mobile app when you sign up to a 6GB, 15GB, or 30GB plan.
The latter includes a monthly discount on your bills when you live in a house or flat with a BT Broadband connection. Note that you don't have to be the account holder to receive the discount.
Additionally, customers may receive monetary rewards: New customers can receive various BT reward cards if they make a purchase on any periodic special offer. And existing customers can receive Amazon gift cards for referring friends to the provider.
BT Roaming
Thinking of taking your BT mobile abroad? You will not be affected by roaming charges if you travel anywhere in the European Union, including European dependencies, and the Schengen area. This is customary practice for all mobile providers in the UK.
If you travel outside the EU, you can purchase a roaming add on, which gives you a 500MB daily allowance for £6. If you go over your allowance, you will be subject to BT's roaming charges.
For those worries about spending too much on roaming, there is an automatic data roaming spending cap set at £35 by BT. Like your domestic spending cap, you can adjust the roaming cap to suit your needs - customers can set it anywhere between £0 and £200.
Countries in the Schengen areaAustria, Belgium, Czech Republic, Denmark, Estonia, Finland, France, Germany, Greece, Hungary, Iceland, Italy, Latvia, Liechtenstein, Lithuania, Luxembourg, Malta, Netherlands, Norway, Poland, Portugal, Slovakia, Slovenia, Spain, Sweden, and Switzerland.
My BT Mobile
BT customers have access to a dedicated members' platform with a personalised account. When you sign up to a BT service, you can register for My BT on the BT website. You'll need your BT ID, which is usually your email address. In your account, you can perform a variety of administrative tasks, including:
Keep tabs on your monthly allowance.
View your monthly bills.
Upgrade your tariff.
Receive technical support.
Upgrade your handset.
Update your personal details as recorded on BT's system.
BT Mobile App
Your My BT account isn't restricted to access via web browsers. It can also be accessed via the My BT Mobile App, which you can download from the Play Store if you have an Android device, or from the App store if you have an iPhone or iPad. The interface is quite different to that of the web browser, but you'll find all of the same information. It's incredibly handy for when you're on the go.