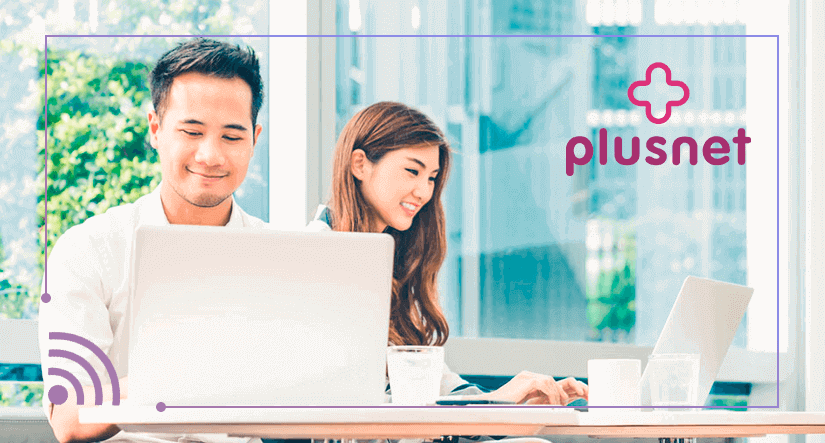 Plusnet broadband has numerous cheap internet deals and an ever-changing array of money-saving offers. It's difficult to keep track of what's available - your time is precious, so here we bring you all the latest, up-to-the-minute Plusnet broadband deals in one place.
---
All standard (ADSL) and fibre Plusnet deals include line rental, a free wireless router and most importantly, give you completely unlimited broadband. In other words, you can download content to your heart's content (no pun intended) without bumping up against any usage limits.
Plusnet Broadband: ADSL
The price of Plusnet broadband depends on whether you take a contract that lasts 12 months or 18 months, or even no contract at all. Let's take a look at what this means in practice if you sign up for the basic Plusnet broadband package.
Plusnet Unlimited 10Mbps
| | | | |
| --- | --- | --- | --- |
| Contract length | Price per month | Upfront costs | Price per month after including upfront costs* |
| No contract | £23.99 for first 12 months, then £31.48 | £50.00 | £28.16 |
| 12 months | £23.99 (£29.98 after 12 months) | £5.00 | £24.41 |
| 18 months | £19.99 (£29.98 after 18 months) | £0.00 | £19.50 |
*Based on first 12 months
The option to have no annual contract is only available on a standard ADSL internet connection. If you're the kind of person who moves house at short notice, Plusnet broadband with no contract could be the right deal for you. However, there are some disadvantages to having a broadband deal with no annual contract.
Compared to contracts, not only do you pay a higher monthly fee, as shown in the table above, you also run the risk of a price rise at any time. In contrast, committing to an ADSL or fibre contract means enjoying the security of a fixed-price guarantee until the contract expires at the end of 12 or 18 months.
Plusnet ADSL speeds
You can expect an average download speed of 10 Mbps (megabits per second) with ADSL broadband. This kind of speed is suitable for small households with relatively light internet usage; 10 Mbps is fast enough for streaming on one device while browsing on another.
For anything more than that, ADSL is unlikely to be sufficient. Fibre optic broadband, on the other hand, will give you faster download speeds due to its more advanced technology but the trade-off is that you need to be prepared to commit to a contract length of either 12 or 18 months.
Plusnet fibre broadband deals
So what exactly are you getting when you sign up to a Plusnet fibre broadband deal on a contract?
Fibre broadband deal: Unlimited Fibre
Average download speed: 36 Mbps
Minimum guaranteed speed: 30 Mbps
Price on 12 month contract: £29.99 + £10.00 activation fee
Price on 18 month contract: £23.99 (£0.00 activation fee)
Price after contract expires: £34.98
Extras: Plusnet Protect free for three months, then £2.00 per month
Fibre broadband deal: Unlimited Fibre Extra
Average download speed: 66 Mbps
Minimum guaranteed speed: 50 Mbps
Price on 12 month contract: £36.99 + £10.00 activation fee
Price on 18 month contract: £27.99 (£0.00 activation fee)
Price after contract expires: £39.98
Extras: Plusnet Protect and Plusnet Safeguard, both included free for the length of the contract
With Plusnet fibre, you get more than double the speed of standard ADSL broadband without paying double the price. Too good to be true? Not at all! Signing up to Unlimited Fibre or Unlimited Fibre Extra on an 18 month contract will cost you marginally more than, if not the same as Plusnet Unlimited ADSL broadband.
Plusnet is no different from other internet service providers in that it imposes an immediate price rise at the end of the contract term. Although, the post introductory-term prices of both fibre packages take nothing away from their superiority over the ADSL package. At worst, you'll be paying £10.00 more for markedly better speeds.
Plusnet broadband deals with home phone packages
We know most people tend to use mobile phones for making calls these days but sometimes the landline is still the best option, depending on your circumstances. For those people who are still attached to their landline phones for making calls, there is a range of home phone deals that can be added onto any Plusnet broadband deal.
Plusnet home phone tariffs
Call plan
Price per month
What does it include?
Evening and weekend UK and mobile calls
£4.00
Calls to UK landlines and 1000 minutes to UK mobiles.
Evenings: Monday to Thursday 7pm to 7am
Weekends: Friday 7pm to Monday 7am
Anytime international calls
£8.00
Unlimited calls to UK landlines, 300 minutes to a selection of other countries (includes USA and Canada mobiles)
Unlimited UK and mobile calls
£8.00
2000 minutes to UK mobiles, unlimited calls to UK landlines
With Plusnet broadband you already get line rental and free calls to other Plusnet landlines included in your monthly internet service subscription. In addition, the 1571 voicemail service is built into every Plusnet broadband deal so that means your friends and family can always leave a message if they can't get hold of you instantly. Without taking up one of the call plans listed above, you can still use your landline on a pay-as-you-go basis; just watch out for the steep 13.5p per minute charge.
If you think you're going to use your landline for calling mobile numbers occasionally but you don't need the Unlimited mobile calls plan, you can simply add 100 anytime minutes to UK mobiles to your Plusnet broadband deal. At £3.00 per month for up to 100 minutes it works out considerably cheaper than pay-as-you-go calls from landlines to mobiles.
Got a lot to say? Remember to hang up and call back!
When it comes to home phone deals, the word 'Unlimited' needs to be taken with a pinch of salt. The number of calls may be unlimited, but the time you can spend on a call is not. After talking for 60 minutes you will start to incur charges. To avoid paying for your phone calls, when you ring someone for a long chat, try setting an alarm to go off at the end of an hour to remind you to hang up and call back.
Plusnet broadband without line rental
We know what you're thinking: at last, proper broadband without paying line rental for an outdated landline telephone that no-one uses. Plusnet does indeed offer broadband without line rental but hold your horses, we've got bad news for you.
You still need to pay line rental, it just doesn't need to be paid to Plusnet. In other words, you can choose which telecoms company to rent your telephone line from and you can pay Plusnet just for the broadband internet it provides to your home.
I don't have a phone line. Can I still get broadband? You need to have an active phone phone line to get Plusnet broadband. Plusnet charges £49.99 for installation, which needs to be paid in advance.
Plusnet line rental saver
As we know, it's near-impossible to get broadband without paying that pesky line rental charge. However, there is a way to pay a bit less for the use of that essential telephone socket. With Plusnet line rental saver, you get a discount for paying for 12 months' line rental in advance. In essence, it's the same idea as getting your car insurance cheaper by paying annually instead of in twelve monthly instalments.
Save £30 over a year if you pay line rental upfront. Customers who don't choose line rental saver will end up paying £227.88 over a 12 month period, compared to the one-off payment of £197.88. On your bill it will appear as £16.49 per month instead of £18.99; that's a 14% discount!
Ditch the Plusnet wireless router?
We've already mentioned that a wireless router is included free of charge in all Plusnet broadband deals, although you'll see as you finalise all the details of your new internet service with Plusnet you will have the option to remove the free router from your order if you've already got a similar or superior router.
No-one wants to clutter up their house with unused electronic equipment, not to mention the impact on the environment of the ever-increasing amount of gadgets and devices that go to waste, so do the planet a favour and take a minute to consider whether or not you really need that new router.