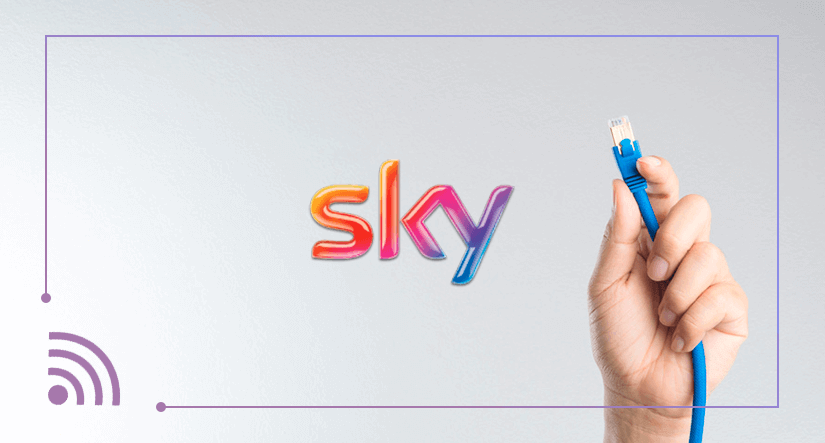 If we are to believe the hype, Sky fibre broadband gives you phenomenal download speeds at a competitive price, but what exactly do you get for your money? Can Sky Superfast really keep up with the streaming demands of the up-to-minute, multi-device modern family home? We've got all the Sky fibre details right here to help you make up your mind.
---
Sky Superfast fibre broadband
Sky Superfast is the name of the one and only fibre optic broadband deal from Sky. At £27.00 per month for broadband, which includes the price of line rental, you then have the option to build a package with Sky TV and/or phone calls. If you rarely watch TV or you don't use your landline for phone calls, you can keep it simple with this fibre broadband deal, without paying for TV or phone calls that you don't need.
Superfast fibre broadband for £27.00 a month sounds pretty attractive, right? But don't forget to factor in one or two other costs on top of that. First of all, Sky charges £19.95 upfront fees to cover the cost of delivering and activating your router.
The price may go up during the initial contract term, which lasts a year and a half, and it will definitely go up by at least £5.00 at the end of the 18-month contract. We recommend putting a reminder in your diary to shopp around for a new deal around the time of your renewal date.
Price: £27.00.
Length of contract: 18 months.
Price after end of contract: At least £32.00 (the price may also go up at any time during the contract).
Upfront fees: £19.95; includes delivery and activation of Sky Hub.
Sky fibre broadband installation
Before you go ahead and book your Sky fibre broadband installation, you should first confirm that your address is covered by the Sky fibre network. Once you know the network reaches your house, the next thing you need to do is make sure you've got an active telephone line. Properties without an active phone line will require a visit from an engineer who will put in a new line and then set up the broadband connection using the new telephone socket.
No coverage but you still want Sky broadband? No worries!If you can't receive Sky fibre broadband in your area, take a look at our Sky deals page for ADSL broadband options.
Like other internet service providers (ISPs), Sky will charge a small fee for installing a new line. This is usually about £20.00. However, if your home already has an active phone line then your Sky fibre installation will be hassle-free and fast. Sky will simply send you a Sky Hub router, you plug it in and hey presto! You're up and running with your new superfast fibre broadband.
Sky fibre with Sky TV
It will come as no surprise to learn that Sky offers a range of TV packages than you can add to your Sky fibre broadband plan. Not surprisingly, if you want both broadband and a Sky TV package it's cheaper to take them together as a bundle rather than buying each one separately. This also means that your bills are kept as simple as possible since you'll have all your subscriptions together in one place.
All tastes are catered for with Sky TV, from kids' shows to blockbuster films to sports channels. Teaming the Sky Hub broadband router with a Sky Q box makes for extra-smooth streaming on your TV, plus you can download the Sky Go app to get access to your Sky TV channels from any device, no matter where you are. There's also the opportunity to upgrade your TV experience to crystal-clear Sky HD for an additional £5.00 per month.
With Sky broadband you can add TV packages to your internet deal at any time. Each package, whether it's kids' TV, sports, cinema or HD, comes with a fairly hefty price tag of between £20 and £60 extra per month on top of what you're already paying for your fibre broadband. However, every now and again you can get a bargain on a bundle with Sky fibre plus a TV package, such as this month's offer on Superfast broadband plus Entertainment. Keep reading for full details.
Sky Broadband Superfast and Entertainment
Price: £39.99 (usual price £49.99).
Length of contract: 18 months.
Price after end of contract: At least £44.99 (the price may also go up at any time during the contract).
Upfront fees: £49.95; includes satellite installation, wireless router delivery, admin and connection fee.
With Sky Superfast plus Entertainment you will have access to over 300 TV channels as well as fast fibre broadband with an average speed of 59 Mbps (megabits per second). This Entertainment TV package includes the classic channels that you probably already know,such as Sky One, Gold, the History Channel and VH1, as well the highly sought-after Sky Atlantic, where you'll find world-renowned series that you can't get anywhere else.
Sky Sports and Superfast Broadband
Price: £62 per month (usually £74.50).
Length of contract: 18 months.
Upfront fees: £20 Sky Q box installation, £9.99 wireless router delivery, £10 activation fee.
Extras: Includes Sky Broadband Boost.
*Prices correct as of August 2019.
For the new football season starting in August, Sky has an attractive offer on its sports package plus superfast fibre broadband. As well as exclusive English Premier League matches you'll also be able to catch all the Ashes action, the Formula One Grand Prix and the golf majors on the dedicated cricket, F1 and golf channels. Here are the details:
The usual full price of £74.50 per month currently has a 17% discount to bring it down to £62, which we think is exceptional value for money. Sky is advertising this deal as the 'new season offer' so it's not likely to last much longer than the first few games. If you want to see your team play all season without paying a fortune, get in quick to secure a great deal on Sky Sports.
Sky fibre and TV always includes Sky EntertainmentBear in mind that no matter which TV plan you opt for, each one starts with Sky Entertainment as the base package. In other words, if you're an avid football fan or a member of the England cricket supporters' Barmy Army, you won't be able to pay for just the Sky Sports channels on their own; your package will always include Entertainment.
Is Sky fibre unlimited?
Sky fibre broadband is currently available with an average download speed of 59 Mbps. According to UK telecoms regulator Ofcom, the average broadband speed in UK homes is now around 54 Mbps so that makes the Sky fibre speed just a touch above the national average. Sky Superfast will be speedy enough for most households, where there are frequently several devices connected to wifi at the same time.
Additionally, Sky is rolling out an ultrafast fibre network, which, as the name suggests, has even faster connection speeds. This will be good news for people with a serious online gaming habit who have a greater need for a fast and reliable internet connection. However, we hate to disappoint you but Sky Ultrafast is currently only available in about 10% of UK homes.
Find out what broadband speed you need
Can I get Sky Ultrafast?
If you're desperate to get one of the fastest possible home broadband services, check with Sky directly if your postcode is included in the ultrafast fibre area. If you're not one of the lucky few, register your interest with Sky so that you will be informed as soon as possible when the network does arrive in your postcode. In the meantime, here are the technical details to whet your appetite:
Sky Ultrafast 1
Average download speed: 145 Mbps
Price per month: £39.00
Minimum guaranteed speed: 100 Mbps
Sky Ultrafast 2
Average download speed: 285 Mbps
Price per month: £49.00
Minimum guaranteed speed: 150 Mbps
To help you make an informed decision about broadband speed, let's sort out exactly what the ISPs mean when they quote download speeds. This average speed that you will see in advertising means that at least 50% of customers with that particular broadband deal are likely to experience that particular speed when the network is busiest, i.e. around 8pm to 10pm.
Thanks to Ofcom's Code of Practice for broadband speeds, almost all ISPs now use 'average download speed' to give a more accurate idea of the speeds customers can expect. It also makes it easier to compare speeds between different broadband providers.
How fibre broadband worksMost fibre broadband is only delivered through fibre optic cables as far as the telephone cabinet on the street. Beyond that point, the connection arrives at your home via copper telephone lines. That means that the download and upload speeds you experience in your home are largely dependent on how far away you live from the telephone cabinet. Ultrafast broadband means fibre cables all the way to your address.
Sky Fibre speed guarantee
Sky is keen to keep its customers happy so it now offers a money-back guarantee when it comes to download speeds. This is how it works: when you take out a Sky fibre broadband contract, you will receive written details of your minimum guaranteed download speed, which applies to your specific internet connection and will depend largely on your location. If your speed falls below the minimum level during the first 30 days of your contract, you can claim back the cost of one month's subscription plus whatever you paid in upfront fees.
This kind of policy is not exclusive to Sky. In fact, when you sign up to a broadband contract with any ISP that adheres to the Ofcom broadband speeds code of practice, they should include information about your minimum guaranteed speed.
This means that if the connection speed that arrives at your router, in your home, is consistently below that minimum level specified in your contract, you have the right to cancel your broadband contract without having to pay the usual exit fees.
Check your broadband speed here
Sky Fibre in my area
Sky fibre broadband has wide coverage across the UK. In fact, fibre broadband capacity has improved substantially in this country in the last couple of years, although we still lag behind many of our continental neighbours when it comes to superfast internet connectivity.
In general, people who live in urban neighbourhoods and semi-rural areas shouldn't have any problem getting Sky fibre broadband. Rural locations often suffer from poor coverage and even when the fibre network reaches those areas, often the distance between the telephone cabinet and people's houses has a detrimental effect on the download speeds people experience at home.