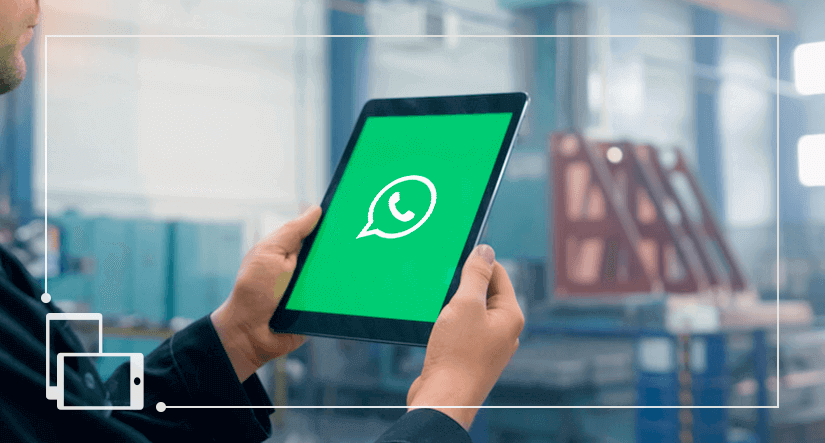 WhatsApp is, arguably, the most successful app and messaging platform to arise from the dawn of the smartphone. With over 1.5 billion active users accrued in 180 countries over the last 10 years, it's certainly one of the first celestial bodies to the iPhone's Big Bang. We now take for granted its easy access and the instantaneity with which we open-type-and-send on our smartphones, but can we make life even easier by getting WhatsApp for tablet too? And if so, how do we do it? Find out here!
---
Can you use WhatsApp on tablet?
The short answer is yes. However, there are various caveats that come with this assertion. It is perhaps better to assert that there are a couple of ways to use WhatsApp on Android and Apple tablets. Unfortunately, downloading the official WhatsApp app through the Play Store or Apple store is not an option, since it - as of yet - does not exist for tablets.
So what do we do instead? To get around this obviously huge caveat we have to look to the web! You can access your WhatsApp account and messages by using WhatsApp Web, the web browser application that syncs your chats as they appear on your smartphone's app.
Alternatively, if you have an Android tablet, you can manually download the WhatsApp APK file and use the messaging platform as you would on a smartphone. However, this requires you to register a new WhatsApp account, which means that you won't be able to view the same chats on mobile and on your tablet.
In the proceeding sections we'll go through step-by-step tutorials for both methods.
Can I use WhatsApp on tablet without a sim?
Yes you can. Using WhatsApp Web or manually downloading the WhatsApp APK file (for Android tablets) doesn't require a sim in your tablet. So don't worry if you don't have an LTE/4G-ready tablet. You will, however, depending on the method of use, need your smartphone with either of the following:
WhatsApp Web: Access to your WhatsApp account through the app on your phone.
WhatsApp APK file: A spare sim with which to activate your tablet WhatsApp account.
If you don't have either of the above for the method you're undertaking, you will not be able to access WhatsApp on your tablet. Whatever the method, it's obviously crucial that you have your smartphone with you too and that your tablet is connected to Wifi.
WhatsApp Web
This method allows users to access their WhatsApp accounts and messages on any web browser, whether they're using an iPad or an Android tablet. The WhatsApp Web application syncs with your mobile app, thus letting you see your chats as they appear on your phone and letting you send and receive messages.
The steps below will take you through the syncing process. You will need access to your WhatsApp account through the app on your phone. Note that there are a few procedural discrepancies arising from the difference between the WhatsApp app on iPhone and on Android.
Sync your WhatsApp account
Open WhatsApp Web:

Open up your tablet's web browser - Google Chrome, Safari, what have you - and head over to the WhatsApp website. On the home page, fix your eyes on the menu bar and locate WhatsApp Web. Click on the text. You should then come to a page with a giant QR code (the patchy black and white square) with the WhatsApp logo in the middle.

The QR code has a time limit, so you'll want to get through the next steps as briskly as possible. If the code times out, don't worry, it'll be overlayed with a refresh button that you can click to get a new one.

Go into WhatsApp's settings on your phone:

Go into WhatsApp on your phone and open the app's settings. If you have an iPhone you can access the app settings by tapping on the cog icon on the bottom right hand corner of the screen. If you have an android device it will be on the top left of the screen. If you have an Android smartphone, you'll have to tap on the three dots on the top left corner.

Scan QR code:

In either settings menu, tap on WhatsApp Web/Desktop. Here you'll have to add a new device and sync it by scanning the QR code. On an iPhone, the camera will automatically launch if you haven't used WhatsApp Web on any other device. If you have, tap Scan QR Code on the subsequent screen. On an Android phone, tap the plus sign on top right of the menu to open its QR camera screen.

Hold your phone over your tablet and make sure that you line up the QR with the camera as specified on the camera screen. When successfully completed, the camera screen will shut down and take you back to the previous app screen. At this point, your phone is no longer required, you can shut it down.
Following the QR code scan, your tablet will automatically sync your WhatsApp messages and open a chat dashboard. You can now use WhatsApp on your tablet to your heart's content. If this doesn't work, go over the above instructions and try again. Make sure you have a stable connection on both your phone and tablet.
WhatsApp Web for DesktopYou can also use WhatsApp Web on your PC or laptop. Follow the same steps outlined above and you'll be good to go. You can also download the WhatsApp Web application for desktop through the WhatsApp website for ease-of-access.
Pros and Cons of WhatsApp Web
WhatsApp Web is incredibly convenient and easy to use. Once you sync your tablet, it will be registered in the WhatsApp settings on your smartphone. This means that you won't have to go through the syncing process again - unless, of course, you get a new phone or tablet. You can also unregister your tablet or any other device by logging out remotely through the WhatsApp settings.
If you log out remotely, you will have to go through the syncing process again to access WhatsApp on your tablet. Additionally, the web application may periodically time. To access the chat dashboard you'll need to have your phone nearby and simply open WhatsApp.
For Android users there is a solution to the issue of periodic time outs - downloading the WhatsApp APK onto their tablets, which we'll go through in the next section.
WhatsApp for Android tablet: APK solution
Android tablet users can manually install a WhatsApp APK to get the app on their device. An APK, or Android Package Kit, is the file format of every Android App. When you download an app on the Google Play Store, it downloads and installs an APK on your device automatically.
Unfortunately, this method will not allow you to access the same WhatsApp account that's on your phone. This is due to the fact that you cannot have one account on more than one device. So you will need a spare sim with which to activate your tablet WhatsApp account. You'll also need to have that sim inserted in your phone or into a spare phone - you'll need it to verify your new account.
Manually installing APKs is known as sideloading.
Download the WhatsApp APK
Enter your tablet's settings:

Before downloading the file, you'll have to allow third party downloads - i.e. apps not sourced from the Google Play Store - on your device. You can do this by going into your device's security settings and enabling Unknown Sources.

Download & install the APK:

You can find the WhatsApp APK on the official WhatsApp website: On the home page's menu bar, locate and select Download. Download the file to your device. Upon completion, you'll get a notification - tap the notification and follow the steps indicated to install the app. Along the way you'll get a warning message that says tablets aren't compatible, just click OK and follow the prompts on the app.

Create your new account:

You'll have to enter a valid phone number, which will be the number on the spare sim required for this method. You'll then have to verify the number, usually this is done via text and recognised automatically by the app. However, as the sim won't inserted into the tablet, you'll need a workaround.

Verify your number:

Instead of verifying via text, select Call me to verify the number. Shortly, you'll receive a call in which a six digit code will be read out by an automated voice. Insert the code into the relevant field on the app. When verified, you'll be able to use WhatsApp as you would on your phone.
Pros and Cons of WhatsApp APK
With the WhatsApp APK, you'll get the permanence of WhatsApp on smartphone - access it whenever you want and chat away - providing, of course, that you have an internet connection. This is perfect for LTE/4G-ready tablets that can use mobile data on the go, or for family members that don't have a mobile phone.
The obvious downside for users with existing WhatsApp accounts is that that they won't be able to use their account on tablet app. They will have to manage two accounts, which can be a bit of a hassle. Additionally, users will not receive automatic app updates. Occasionally, the app will cease to function because it has become outdated, at which point users will have to download the updated version of the APK and reinstall it using the steps outlined above.
WhatsApp iPad solution
Can you put WhatsApp on iPad? There is no equivalent to the Android tablet APK solution for iPad, which means that users can't manually download and install WhatsApp on their iPads. For now, they are stuck using the WhatsApp Web application on web browser.
However, rumours of the development of a dedicated WhatsApp for iPad app were making the rounds earlier this year. While no launch date has been announced, it may only be a matter of time until iPad users can transition from WhatsApp Web to a sleeker tablet-friendly app.