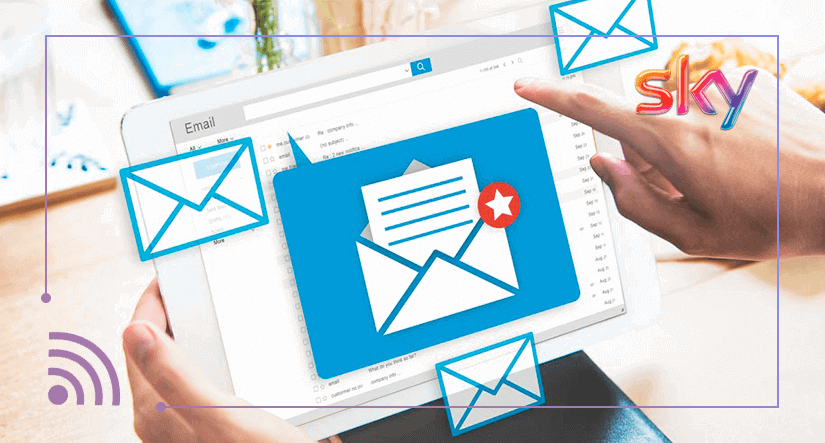 If you're using Sky email address as your main email correspondence account, we'll show you how to get a little more out of it. This includes a step-by-step guide for how to receive your emails direct to your smartphone, what to do if you have forgotten your password, how to login and how to delete your email account.
---
Can I sign up to Sky email?
Customers signing up to one of Sky's broadband packages used to receive a complimentary Sky email address via Yahoo's platform. Unfortunately for new customers, Sky stopped handing these out in October of 2018. Existing customers and Sky email holders, however, can still access and make use of their accounts as normal.
This may prove to be somewhat inconvenient for customers that use broadband provider email accounts and are looking to switch to Sky. Not to worry though, there are plenty of free and easy to use alternative email services out there. If you can't get a Sky email account, you can get a free email account with one of these:
Gmail by Google
Outlook by Microsoft
Yahoo Mail
Mail.com
AOL Mail
In addition, some broadband providers let you keep your email for a monthly fee, even after you cancel your contract broadband contract and are no longer a customer. Here is a list of broadband providers that offer an email service to non-customers for a fee:
Sky customers that have a Sky email will experience some limitations too. You won't be able to change your email address or open new accounts for family members. If you would like to change your email address, you can sign up to one of the above providers and set your new account to receive all emails going to your Sky email account. To find out how to do that, check out our How to receive emails to another account section.
Check out all Sky broadband & fibre deals!
Sky Email Login
You can access your Sky email account by heading over to the sky.com website. When the page loads, you should see the 'Sign in' button on the top right of the menu bar with a little pop-up beneath it. The pop-up contains a link that reads "Yahoo Mail Sign In". Click on the link to go to the Sky email sign in portal.
If you don't get that little popup on your screen, you can access Sky email through your Sky account. Head to the Sky account portal by clicking the 'Sign in' button on the right of the menu bar. Log into your email account with your Sky ID (email address or username), then click on your name or username on the top right hand corner of the screen and select Yahoo Mail.
Sky email is provided by Yahoo Mail, which is why you'll see it referred to as Sky Yahoo email.
Alternatively, you can head straight to the Sky Yahoo email login portal by clicking here. You can log in with your email address or Sky username. We suggest adding this page to your favourites or bookmark it for easy access in the future.
What if I've forgotten my email address or password?
If you've forgotten your Sky email address, you'll have to request to retrieve it. This is pretty easy: Click on the forgotten username link below the password field. This takes you to the retrieval request screen where you can enter your account information to generate your email address on the screen.
If you can't remember your Sky email password, you'll have to reset it. Start by clicking on the forgotten password link under the password field in the email login portal. In the subsequent screen, enter your username or email address - which is used to identify you - in the relevant field and enter the characters displayed to you in the box beneath.
Sky will then send you an email containing a link to reset your password. Click on the link and follow the process through; answer the security questions you set when you created your account and enter the last six digits of the bank account number used to pay for your Sky packages. You'll then be able to set a new password.
Sky email settings: Connect Sky email to your phone
Unfortunately, there is no Sky email app. To receive emails addressed to your Sky email account on your smartphone, you will have to configure the email settings on your phone to connect with the relevant mail servers. For this, we need the right Sky email server settings. Don't worry, we'll take you step-by-step through the process on iPhone and Android.
First, a little clarification: You can access Sky email from your phone using protocols known as Imap and Pop3. In your phone's email settings you can choose which protocol you use, however for the purpose of this guide, we will be showing you how to access Sky email on your phone using Imap.
Tech jargon buster: Imap and Pop3 are methods of accessing and storing email data. Imap is considered the better of the two for accessing a single account across multiple devices. This is because Pop3 downloads email to your device and deletes it from the server, meaning that you may not be able to see your emails on other devices.
Here are the mail server settings you'll need for accessing Sky email on any device:
Server Settings
Incoming mail server name - Imap
imap.tools.sky.com
Imap port
995
Outgoing mail server name - Smtp
smtp.tools.sky.com
Smtp port
587
Security
SSL
How to add sky email to iPhone
For this tutorial we're using an iPhone with iOS 12.3.1. If you haven't updated your iPhone's operating system to iOS 11 or 12, the layout of your settings app will appear different to the one described in this tutorial. Please be sure to check that your iPhone is operating on iOS 11 or above.
Open iPhone settings:

First things first, open your general settings app and scroll down to Passwords & Accounts. On this screen you'll be able to see any existing email accounts connected to your phone. Under Accounts, select Add Account. This will take you to a screen with various email providers listed. Select Other at the bottom of the list.

Add account:

From there, select Add Mail Account and enter the required information. You'll have to insert the name you want associated with the account (usually your first and last name), your Sky email address and your Sky email password. You can add a description of the account though it is not necessary. When you're done, click "Next" on the top right of the screen.

Insert server settings:

This is where you'll need the Imap settings in the table above. Make sure that you're on the Imap tab and not the Pop tab. If you're on the Imap tab it will be highlighted in blue. In Host Name under Incoming Mail Server enter the incoming mail server (Imap) name. In the fields underneath you have to enter your Username, which is your Sky email address, and your Sky email password.

Under Outgoing Mail Server, enter the outgoing mail server name (Smtp), along with your Sky email address and password. When complete, tap on Next in the top right corner of the screen and on the next screen tap on Save. If you don't advance to the next screen, some of the information your typed in was not accurate. Repeat the process and make sure you spell the host names, your email address and password correctly.
Once you have completed the above steps, your Sky email will be visible in your Email app. While you're still in the "Passwords & Accounts" screen of your Settings app, be sure to tap on your Sky email account to access its Imap and Smtp information. Check that the Imap port is 995, the Smtp port is 587, and that the security for both is SSL.
How to add Sky email to Android phone
Open phone settings:

For setting up Sky email for Android, head to your phone's settings app. In the settings app, tap on accounts, which will take you to a list of existing accounts connected to your phone. Select Add Account at the bottom of the list.

Add account:

This will take you to a screen with a list of apps for which you can add new accounts. At the top of the list you have the option of adding Personal (IMAP) and Personal (POP3) accounts. Select Personal (IMAP). As prompted, add your Sky email address and hit Next, then enter your Sky password and tap on Next again.

Add server settings:

In the following screen you can enter the incoming male server (Imap) name. Be sure to double check your email address and password - click on the little eye icon on the bottom right corner of the password field to make the password visible. If all looks good, hit Next.

Do the same for the subsequent outgoing server settings screen, except this time enter the outgoing mail server (Smtp) name in the relevant field. The penultimate screen will give you a short list of email account options that you can toggle according to your preferences. When you've finished configuring your account settings tap on Next to go to the final screen.

Personalise account name:

The final screen of the email setup process lets you change the account name that will be visible to you in Accounts and your phone's email app. You can also change your personal name as will appear on sent messages.

If you're happy with the account and personal names associated with your email account, select Next a final time and you're good to go. Be sure to check that the Imap port, Smtp port and security certificate are all correct. You can do this by accessing the Incoming and Outgoing settings.
Sky email not working
If you're having Sky email problems or if your Sky email is not working at all, you're going to have to do some troubleshooting. You can use Sky's service status checker to see if there are any issues with their email service. It may just be that Sky email is down or under maintenance. To check your service, you'll have to log in using your Sky ID.
If all your Sky services are running as normal, the issue may be on your end. Here's a checklist to go through to ensure that you're able to access Sky emails on any device:
Ensure that the time and date settings on your device are correct.
Check that your operating system, Mail app or browser are the latest versions. If not, update them.
Browser only: Make sure that Javascript is enabled in your browser settings.
If you can access your Sky Yahoo mail account on your browser but your emails aren't loading, try switching your account to the basic version. You can do this by going into your email settings, selecting "Viewing email", and changing your "Mail version" to "Basic". Don't forget to hit save. To revert to the full featured version, follow the same steps and at the end, select "Full Featured".
If your emails aren't downloading on your phone or tablet email apps, you may receive the following message: "Sky email cannot safely connect to server". In this case, check that your email account settings are correct.
In the email or accounts section of your Settings app, check your incoming and outgoing server settings. In particular, make sure that your email address and password are correct, and that the host names, ports and security certificates match the server settings set out in our server settings table.
Security & Yahoo Sky Email
Yahoo has had a bit of a bad rap for security in recent years. It was fined £250,000 for security breaches in 2014. This just goes to highlight how important it is to engage in security best practices.
We suggest that you change your password regularly and refrain from using personal details or simple words or phrases. Randomise your password, include numbers, symbols, uppercase and lowercase letters. Use a password manager to assist you in creating and storing complex passwords.
Be wary of signs of a security breach. If you notice emails in your sent folder that you haven't composed and sent, if you haven't received expected emails, or if your account information has changed, contact Sky. If Sky detects unusual activity from your email account, it may lock access to it, in which case you will have to contact the customer service line to unlock it.
Keep an eye out, also, for email scams or phishing emails - these are emails that attempt to get confidential information from you by pretending to be recognised organisations. Do not open emails from unknown senders or unusual addresses. Mark them as spam or delete them.
How to receive emails to another account
Phasing out your Sky email account and replacing it with a free email service like Gmail or Outlook requires a bit of prep. This entails setting up email forwarding and automatic replies on your old Sky account, as well as updating your email address on any account or website associated with your Sky email.
Forwarding emails from your Sky email account to your new email means that you won't miss a thing. Any correspondence sent to your old email address will automatically be forwarded to your new one.
Setting up automatic replies means that anyone who sends an email to your old address will receive an automatic email notification with a message of your choice. It's important, for the purposes of phasing out your Sky email account, that this automatic reply notifies senders of your new email address and that you no longer use your Sky Yahoo Mail address.
Forwarding email from Sky Yahoo Mail
To set up email forwarding on Sky email, log into your account on a browser and head to "Settings" by clicking on the tool icon on the top right hand corner of the screen. Once in your settings, click "Accounts" on the left sidebar and select your Sky Yahoo account.
Find and select "Access your Sky Yahoo Mail elsewhere" by scrolling down on the page. Then click on "Forward". Here's where you can enter your new email address and select the forwarding option. After entering your new email address, hit the "Verify" button.
You will receive an email from Sky on your new email account requesting that you verify your account by clicking on the provided link. When you have completed the verification, select "Store and Forward" from the dropdown menu and hit "Save".
Automatic replies on Sky Yahoo Mail
You can also set up automatic replies - also known as out-of-office replies - in your Sky email settings. In the "Settings" screen, find and select "More Settings". Then click on "Out-of-office response". Choose when these responses are active and when they cease. You can set it for a year or so to give you enough time to complete the phase out.
In the blank box, type in the content of the response that will get sent out. This should contain details of your new email address and instructions not to correspond with your old Sky email address. When you've finished, hit "Save".
How to delete Sky email account
Unfortunately, Sky email account holders cannot manually delete their account. Sky states that it deletes accounts when they have been inactive for a period of more than 6 months. Alternatively, to delete an account the account holder will have to get in contact with Sky and request that their mailbox be deleted. Be aware that emails cannot be recovered once your account has been deleted.
Category
Broadband Guides