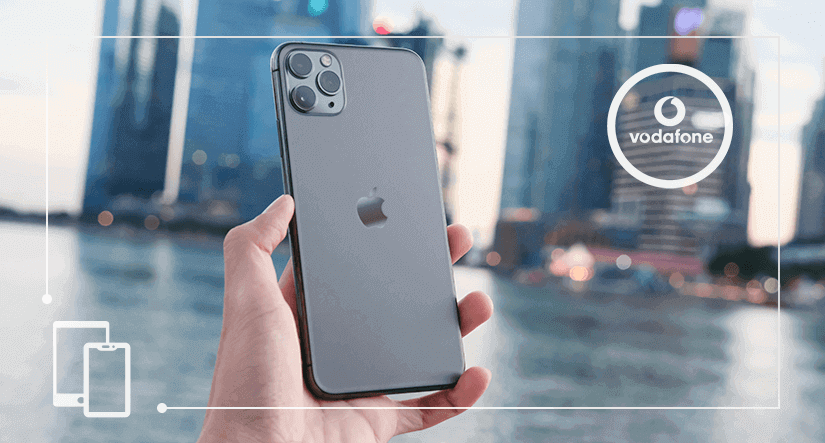 There are few certainties in the modern, 21st century world: death, taxes and the conveyor belt of smartphones, pumping them out faster than you can keep up with. This is why the uniquely placed 21st century phenomenon known as the 'mobile upgrade' has all but taken centre stage, always evolving and adapting to keep up with the times. So much so that it can be a bit confusing to know when and how to upgrade. If you're a Vodafone customer, have no fear: TechXpert is here with the low down on everything surrounding the coveted Vodafone upgrade.
---
We'll start off by explaining how Vodafone's new Flexi upgrade system works and then show you how to navigate your Vodafone account for the purpose of checking your upgrade eligibility. We'll also take you through Sim Only plan upgrades before going through Vodafone's Returns Policy, which is applicable to both handset and sim plan upgrades.
Vodafone Early Upgrade: The Flexi Upgrade
The Vodafone early upgrade system - or to give it its proper name, the Vodafone Flexi upgrade - lets customers take advantage of the endless stream of new devices by making it possible for them to upgrade their handsets after the first six months of their mobile contracts.
This is made possible thanks to a billing system under which the monthly price of your handset and the monthly price of your sim plan are, essentially, charged separately, despite being billed together. Consequently, your sim plan will not be affected by your Flexi upgrade. If you want to upgrade or change your sim plan, check out the Upgrade my Sim Plan section.
Of course, Vodafone's Flexi upgrade comes with a few terms and conditions, which are as follows:
You can only upgrade to a handset that has an equal or higher monthly price plan than your current handset.
There is no early termination charge.
A variable Flexi-fee is applied when you upgrade anywhere in between month 6 and 30 days before the end of your minimum term.
Any outstanding fees on your contract must be paid before you can upgrade.
The Flexi-fee (see term 3 above) is calculated by multiplying your current handset's monthly charge and the number of months left of your minimum contract term. The fee decreases over time to reflect your completed payments and the time left until the end of your contract. So if you upgrade your handset 9 months into your contract rather than 6, you'll be charged a lower Flexi-fee.
Carphone Warehouse customers:Please note that if you have purchased a Vodafone plan through Carphone Warehouse, you will not be eligible for the Flexi upgrade. You can, however, upgrade after the minimum term of the contract.
How Can I see my Vodafone Upgrade Deals?
Start by checking whether or not you're eligible for a handset upgrade. You can do this by logging into your 'My Vodafone' account either through the My Vodafone App or through the Vodafone website.
If you are using the My Vodafone App, follow the steps below:
Log in to the app on your handset.
On the main screen, tap the menu tab (the three horizontal lines) on the top right.
Then head to My products and services.
From there, tap on Upgrade or change plan.
If you are using the Vodafone website, follow these steps instead:
Head on over to the Vodafone site.
Click on the profile icon on the top right-hand side of the screen.
Log in to your My Vodafone account with your account details.
On the main screen, click Upgrade or change plan.
If you are indeed eligible for an upgrade, you will receive a little on-screen notification. Click on 'find out more' to find your current Flexi-fee and to get a list of the Vodafone upgrade deals available to you. You can select and purchase a deal on the app or through the website. Alternatively, you can head to your nearest Vodafone store or call Vodafone's upgrade number.
Sim Only Flexible Upgrades
If you're on a Vodafone Sim Only plan (12 month minimum term), you could be eligible for a Flexible upgrade - not to be confused with the aforementioned Flexi upgrade. Sim Only Flexible upgrades let you change their pay monthly sim plan after only 3 months of your contract's initial minimum term.
Flexible upgrades are free, although customers will have to ensure that any outstanding payments are settled before moving over to a new plan. To upgrade (or downgrade) your Sim Only plan you can follow the same process as that of the Flexi upgrade. Log in to your My Vodafone account - either through the app or the desktop site - and head over to Upgrade or change plan.
When you upgrade, your previous 12 month plan will be cancelled and you will be enrolled on a new 12 month minimum term with your new chosen plan. You can then decide to repeat this process after the first three months have elapsed on the minimum term.
Sim Upgrade Plans
Vodafone's Sim Only plans fall under two umbrellas: the first being Vodafone Essential plans and the other being Vodafone Red plans. The key difference between the two sets is mobile data. Essential plans all come with unlimited mobile data, whereas Red plans offer varying data plans. Both plans include unlimited calls and texts.
Bear in mind that when you're changing your sim only plan through the Flexible upgrade system, you are not subject to the same price plan restrictions that apply to Vodafone Flexi upgrades, i.e. being limited to plans that are equal or higher in value than your current plan. You are free to upgrade - or downgrade - to any available plan no matter the price.
Can I cancel Vodafone upgrade?
The short answer is yes, you can cancel a Vodafone upgrade. Should you feel unsure about your Vodafone upgrade, whether it's your new handset or your new Sim Only plan, rest assured in the knowledge that you're covered by Vodafone's cancellation and returns policies. Both give you a period of 14 days from the date you receive your product or service to decide if you'd rather hold onto it or cancel/return it.
Please be aware that if you purchase a Vodafone product or service from Carphone Warehouse, Vodafone's returns or cancellation policies do not apply. If you would like to return/cancel your purchase, you will have to check the relevant Carphone Warehouse policies.
Returning your handset
If you're returning your upgraded handset, here's what you need to know: You have two options for returning your device. The first is to pop into your nearest Vodafone store. You'll need to take your contract, receipt and any other proof of purchase, as well as your handset, of course. A customer service agent will assist you by processing the return in-store.
Don't have time to go to your nearest store? No worries, contact 03333040191 and inform them of your intention to return your handset. Vodafone will then send you a prepaid envelope which you can use to return your device through the post. An £8.50 administration fee will apply for postal returns.
When returning your upgraded handset, you must ensure that it is undamaged and fully functional. You must also return any and all accessories - for example chargers and headphones - and any promotional products that you received with your handset. This is a great option as it prevents your old phone from ending up as e-waste
Cancelling your new Sim Only plan
Cancelling your sim only upgrade is much the same as returning a new handset. You can head over to your local Vodafone store and request a cancellation or, if you can't get to a store, you can cancel via the following methods:
Call 191 from your Vodafone handset or 03333040191 from any other phone;
Or complete Vodafone's cancellation form and send it to Vodafone Limited, The Connection, Newbury, Berkshire RG14 2FN
Once you have returned your handset or cancelled your Sim Only plan, Vodafone will reimburse you the full amount for any payments made relating to the handset or plan within another 14 days.