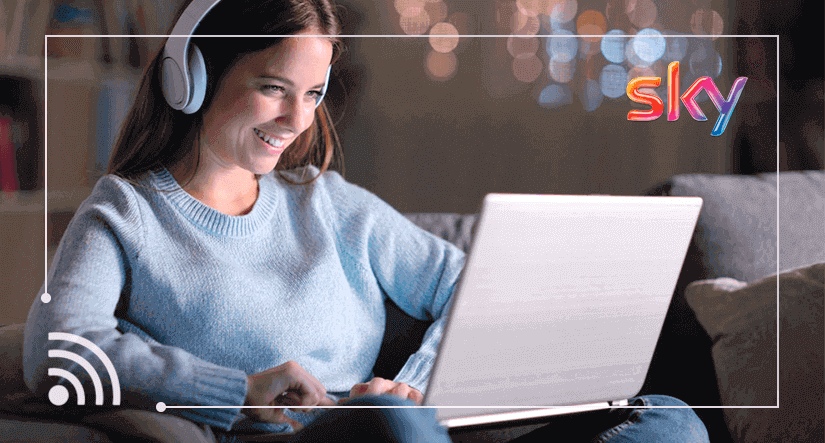 If you're looking for the latest Sky broadband deals you've come to the right place! From ADSL to superfast fibre broadband connections, with or without a TV package, plus deals for existing customers, we've got all the details to help you make the best choice.
---
Sky broadband deals are relatively uncomplicated. There is one price for ADSL broadband (£20 per month) and another for superfast fibre (£27 per month). Both of the Sky broadband deals include unlimited usage and all new customers will receive a Sky Q Hub router. Read on for details of what you get with each deal.
Sky deals: broadband without TV
One of the most frequently asked questions about Sky is 'Can I get Sky broadband without Sky TV?' The answer is yes, you can! Sky TV packages are available as optional add-ons to the Sky broadband deals. You've got a wide choice of TV packages, any of which can be combined with Sky Essential or Superfast broadband, but if 300-odd TV channels isn't your thing you can sign up to Sky broadband only.
To get Sky broadband without Sky TV you will still need a telephone line, since Sky broadband is delivered via the Openreach phone network. Line rental is already included in the quoted prices for broadband. See below for more information about Sky Talk packages for phone calls.
Sky Broadband Essential
With an average speed of 11 Mbps (megabits per second) the cheaper of the two Sky broadband deals will set you back about £20 per month. Sky Broadband Essential is delivered via an ADSL connection, which means your download speeds will not be as fast as with fibre broadband. The Sky fibre broadband network is pretty extensive but there are still some areas it doesn't reach. If that's your situation then Essential Sky Broadband is the next best thing.
Even if your postcode is within the Sky fibre network, it doesn't necessarily mean you need to pay the extra few pounds per month to receive fibre broadband. An ADSL connection is absolutely fine if your household tends not to have more than one or two devices connected to the internet at the same time. For multi-device families or anyone with moderate to heavy internet usage, fibre broadband with more bandwidth and faster connection speeds will be more suitable.
Sky Broadband Superfast
Sky's Superfast fibre broadband gives you an average speed of 59 Mbps, which is considerably faster than the Essential broadband option. At £27 per month, the difference in speed is reflected in the price; Superfast is £7 a month more than Sky's ADSL broadband. The higher cost will be worth it for most households where several devices, such as smart TVs, tablets and games consoles, use the internet at the same time. The more devices, the more speed you need
Connecting to broadband for streaming programmes on Netflix, browsing the internet on tablets and laptops, and using social media apps on smartphones all place a high demand on your broadband. If this sounds like you and the people you live with then you'll need fibre broadband, such as this Sky Superfast deal. The speeds you are likely to get will keep you connected at a reasonably competitive price.
Click here for more information about Sky Fibre
Sky Talk and Broadband
Every Sky broadband deal has line rental included. Any calls you make from your landline will be charged per minute, on a pay-as-you-go basis. However, if you want to add a call package there are a few options:
Sky Talk package
Price per month
What does it include?
Sky Talk Evenings and Weekends
£5.00
Calls to landlines and mobiles in the UK.
Evenings: Monday to Thursday 7pm to 7am.
Weekends: Friday 7pm to Monday 7am.
Sky Talk Anytime Extra
£10.00
Calls to landlines and mobiles in the UK at any time of day
Sky Talk International Extra
£12.00
Calls to landlines and mobiles in the UK at any time of day.
Landlines calls to 50 countries plus calls to mobiles in Canada, Hong Kong and the USA, at any time of day.
In all Sky Talk deals the inclusive calls are free as long as they don't last more than 60 minutes. If you're going to talk longer than an hour remember to hang up and call back again to start another free call. The per-minutes charges are on the pricey side once you go beyond the hour mark so we suggest setting a timer to remind you to hang up and redial.
Sky broadband offers and discounts
Similar to most internet service providers (ISPs), Sky offers limited-time discounts and extras with certain products. These offers change frequently but at the moment (August 2019) there are discounts available on Sky Broadband Boost when you sign up to Essential Sky Broadband or Sky Superfast.
Sky Broadband Boost gives you access to the following features:
Your internet connection is checked daily and any performance issues will be automatically attended to without you having to raise a finger.
Any engineer visits you need will be arranged for a time that suits you best (including weekends).
Also included in Broadband Boost is Sky Broadband Buddy. This is a neat way to keep track of your broadband and the devices that are connected to it. Using an app on your smartphone you can stay in control of your internet connection wherever you are. Here's what it can do:
Internet 'pause': With a tap of your finger you can restrict internet access for one device, several devices or for everyone connected to your wifi; a handy way to help parents stop their kids being distracted when they should be studying!
Parental controls: Set time limits and content filters for the different devices that connect to your wifi. You could even set yourself restrictions on your own device if you find it hard to tear yourself away from your screen. Find out more about setting parental controls with Sky broadband in our Sky Broadband Shield explainer.
Sky Broadband Boost usually costs £5 a month. As of August 2019, Broadband boost is on offer at £2.50 per month with Sky Essential and Sky Superfast broadband deals. This discounted price lasts the full length of the 18 month broadband contract before it increases to £5 per month.
Sky broadband: the small print
Here are a few important things to consider before you sign up to a Sky broadband deal:
Upfront fees:

For Sky broadband you will usually pay £9.99 for delivery of your wireless router plus you will be charged a £10 fee for activating the internet connection.Sky TV and broadband deals will also include a £20 installation fee for setting up your Sky Q box.

Contract length:

Signing up to any of the Sky broadband deals means committing to an 18 month long contract. Cancelling the contract before the end of the 18 month period will most likely mean being charged an early exit fee.

Price guarantee:

During the contract term Sky has the right to increase the monthly price of your broadband. In other words, you might take out a broadband plan for £20 a month for 18 months but the price could go up to £22, or £25, or more, at any point during those 18 months.

Bundle contracts:

Sky broadband deals that include Sky TV packages involve more than one contract. That is, if you have Sky broadband and TV, you have one contract for Sky broadband and another one for Sky TV. They will most likely have the same start and end dates but when it comes to cancelling, renewing or switching, remember you have more than one contract to deal with.
Sky deals for existing customers
Sky tends not to explicitly advertise deals for existing customers. Just like the majority of its ISP competitors, Sky will impose an automatic price increase after the initial term of your broadband deal. However, we have it on good authority that existing Sky customers coming to the end of their contracts have a good chance of successfully haggling down the price of a new deal.
These Sky retention deals, as they're known in the industry, can be negotiated by savvy customers who ring up the company to say they want to cancel their broadband plan. What usually happens next is that the call is passed to the department with responsibility for retaining customers who say they want to switch away from Sky.
At this point you are likely to be offered some kind of deal that beats the renewal price you've been quoted but is probably still more expensive than your initial contract. It's up to you if you want to take the offer, try to improve on it, or go elsewhere completely to get an entirely new and cheaper broadband deal.